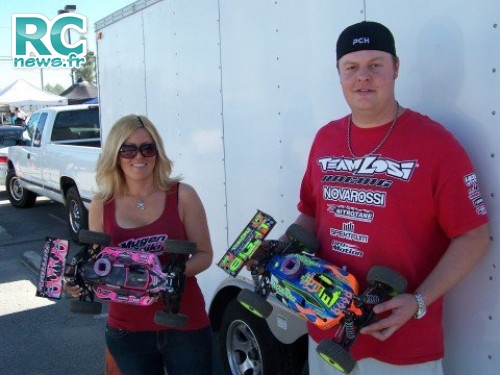 1) First of all, could you introduce yourself for french who don't know you yet? Your career...?
1) Première question, classique, pouvez-vous vous présenter pour les pilotes français qui ne vous ne connaitraient pas encore ? et vos parcours , de vos débuts jusqu'à aujourd'hui ?

-Ronda: I was born Abilene, Texas and raised in Southern California. I am currently a student working on my degree in Computer Information Systems/Web Design. My R/C career began in 1990 when a family member gave me a Kyosho Raider as a gift and I went on to buy a Team Losi JRX Pro which was the first car that I raced. I am a well-known racer from sunny California. My current Sponsors are: MUGEN SEIKI, PRO-LINE, AIRTRONICS, BYRONS FUEL, UPGRADE, AVID BEARINGS, PYROGRAPHIX PAINT, TEMPGUN.COM, SHORT COURSE HOBBIES.COM, SPY OPTIC, LUCKY 7, DIALED, and TEKIN.

-Ronda: Je suis née à Abilene, au Texas, ensuite j'ai vécu en Californie du sud. Je suis étudiante en Système Informatique / Création de site. Ma carrière RC commence en 1990 quand un membre de ma famille m'offre un Raider Kyosho et je me suis acheté ensuite un JRX Pro Team Losi avec lequel j'ai fait ma première course.
Je suis un pilote connu en " Californie ensoleillée".
Mes sponsors actuels: MUGEN SEIKI, PRO-LINE, AIRTRONICS, BYRONS FUEL, UPGRADE, AVID BEARINGS, PYROGRAPHIX PAINT, TEMPGUN.COM, SHORT COURSE HOBBIES.COM, SPY OPTIC, LUCKY 7, DIALED, et TEKIN.

-Adam: I born in Grand Rapids Michigan. I started racing in 1991 and became a team driver for TLR in 1994. I moved to CA. to work for Horizon Hobby / Losi in 2000. My current position is Team Development and Strategies Manager.

-Adam: Je suis né à Grand Rapide, Michigan. J'ai commencé la compétition en 1991 devenu pilote usine TLR en 1994. J'ai déménagé en Californie en 2000 pour travailler pour Horizon Hobby et Losi. Ma situation actelle est manager Dévelopemment et Stratégie.

2) What a week looks like with you?
2) A quoi ressemble une semaine en générale avec vous ?

-Ronda: I try and practice at least two times a week and race at least one day a week if not more. I have my own pit area next to Adam's in our Garage for our late night wrenching sessions.

-Ronda: Je fait des essais et m'entraine 2 fois par semaine, et coure au moins une journée sinon plus. J'ai mon propre établi à coté d'Adam dans notre atelier pour nos soirées de mécanique.

-Adam: I work in the office at Losi Monday through Friday from 8:30 – 5:00, but it also depends on what testing needs to be done and what races are going on. When I get home from work Ronda and I have dinner and I try to relax for an hour or two before I start wrenching for the night. Then it's off to the garage to wrench on my cars from 8pm – 12pm. I usually practice on Tuesday and Thursday after work. Living in southern CA. there's always a series race or club race every weekend.

-Adam: Je travaille chez Losi du lundi au vendredi de 8 h 30 à 17 h, mais celà dépend des essais et des courses. Quand je rentre à la maison, nous dinons et essayons de nous détendre une heure ou deux avant d'aller travailler à l'atelier sur ma voiture de 20 h à minuit. Je m'entraine normalement mardi et jeudi après le travail. Vivant en Californie du sud, il y a toujours des courses, de club ou de championnat tous les weekend.

3) It's not hard to make the same thing as his spouse?
3) N'est il pas trop dure de faire la même chose que son époux?

-Ronda: Adam and I have been in the industry along time and work very well together. I would be lying if I said that we didn't disagree on some things. We are only human.

-Ronda: Adam et moi sommes dans cette industrie depuis longtemps et travaillons très bien ensemble. ce serait mentir si je disais que nous ne sommes jamais opposés sur quelque chose, nous sommes sulement humain.

4) -Any news to coming from mugen/ proline? and losi/nova?
4) -Des nouveautés a venir chez mugen/ninja/proline ? and losi/nova ?

-Ronda: I can't tell all my secrets. Time will tell!

-Ronda: Je ne peux pas révéler tous mes secrets. Le temps viendra.

-Adam: TLR and Nova Rossi are always working to better there product lines. It's very exciting to work for two companies that are very passionate and committed to winning.

-Adam: TLR et Novarossi travaillent toujours pour améliorer leurs gammes. C'est très interressant de travailler pour deux sociétés très pationnées et déterminées à ganer.


5) Can you tell me what do you think about the news part mugen (chassis / spring)
5) Peux tu me dire ce que tu pense des nouvelles pieces mugen (chassis/ resorts)

-Ronda: I really like the new long chassis from mugen because it makes the car more stable. The new springs make the car a little smoother and easier to drive without taking away steering.

-Ronda: J'aime vraiment le nouveau chassis long de chez Mugen car il rend la voiture beaucoup plus stable. Les nouveaux ressorts amortissent mieux et rendent la voiture plus facile en direction.

6) which are your objective for this year?
6) quels sont vos objectifs pour cette année?

-Ronda : I plan on racing a bunch of local race like the JBRL and Grass Roots Series along with The Gas Champs at Thunder Alley. I wish I could race full-time but, school is my # 1 priority at this point in time.

-Ronda: Je prévois beaucoup de courses locales comme JBLR et Grass Roots Series. Je souhaite pouvoir courir tout le temps, mais ma priorité N°1 en ce moment, les études.


-Adam: 2011 has been a pretty good year. I still have a lot of racing to do. I have trips planned for Korea, Italy, Mississippi, and Michigan just to name a few.

-Adam: 2011 a été une bonne année. J'ai encore beaucoup de courses à faire. J'ai des voyages prévus en Korée, Italie, Missipi et Michigan jute pour vous en cités quelques un.

7) Do you make some race in Europe this year? In france?
7) va tu faire quelques courses en Europe cette année? En France ?

-Ronda: As of right now I do not have any planned trips to Europe. I have been to Belgium for Nitromania.

-Ronda: Je n'ais pas de voyage prévu pour l'Europe, je suis venue à la Nitromania en Belgique.

-Adam: I don't have any races planned in France this year, but I'll be in Italy in July for the Nova Rossi Race.

-Adam: Je n'ai pas de course prévue en France cette année, mais je viens en Italie en juillet pour la "NovaRossi Race".

8 ) Do you follow the news in europe , and especially in france?!
8 ) est-ce que vous suivez l'actualité en europe ? et plus particulièrement en France ?

-Ronda : I follow the news on Neobuggy and Redrc when possible. Yannick is my favorite driver in France!

-Ronda: Je suis l'actualité sur NeoBuggy et RedRC quand ,c'est possible. Yannick est mon pilote préféré en France.

-Adam: Yes, I follow racing news around the world and talk with Yannick about racing in France.

-Adam: Oui, je suis l'actualité course dans le monde, et en disccutte avec Yannick pour celle de France.

9) Finally,Do you have something to say to the french readers?
9) -Un dernier mot pour tout les pilotes français et les lecteurs de RCmag ?

-Ronda: I would love to meet and race with my fellow racers in France!

-Ronda: J'adorerais renconter et courir avec mes amis pilotes en France.

-Adam: Hello to all the French racers! I hope to come race with you soon.

-Adam: Salut à tous les pilotes Français! Je souhaite venir courir avec vous prochainement.